Coronavirus (COVID-19) Updates
Important Information
We would like to reassure all of our members that we are operating with COVID safe plans in place.
Please read the following important information regarding COVID-19 Coronavirus
The Centre is working to ensure the health and safety of all patrons and staff is maintained. We want to address the growing fears around the spread of COVID-19 (Coronavirus) and share with you the information we have at the current time.

We are working to ensure our centre remains a safe place to visit and work. The health and safety of our community is our main priority, we always uphold a high standard of hygiene within the centre, however are taking extra precautions during this time.

We hope you will do what you can to take care of yourself and those around you, we also encourage you to use and support our community facility with confidence while it is safe to do so.

Please see the latest update on the situation below.

Remember if you are feeling unwell or showing symptoms of the flu, cough or cold to please remain away from the centre until you are feeling 100%.
Opening Hours
Monday - Friday
6am - 7pm
Saturday
8am - 4pm
Sunday
10am - 4pm
Update 20/12/2021
Important UPDATE for Members and Guests

Following the recent Government announcement, face masks are mandatory in indoor public spaces from 21 December 2021.
From tomorrow you will see our team at reception and around the Centre wearing face masks.
We also ask any visitor who is not exercising or in the pools to please wear a mask whilst in the Centre.
Keep up to date with us on Facebook
Read more here TAS Government Update
Update - 20/03/2021
Important UPDATE for Members and Guests
The Tasmanian Government has announced that from the 1st of May 2021 contact tracing must be conducted using the Check In Tas App.

Contact tracing is mandatory for sport and recreation organisations in Tasmania. This is for training, events, competition and any other gatherings longer than 15 minutes.

The Director of Public Health has determined that, from 1 May 2021, the free Check in TAS app will be the only system used for collecting contact tracing information in Tasmania.

What does this mean for you and us?
Pen and paper contract tracing methods are no longer a suitable form of contact tracing

All members, staff and visitors should download the Check in Tas App onto their smartphones.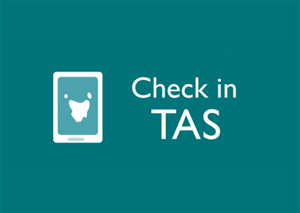 How to use the Check in Tas App?
The free Check In TAS app is available for download from the Google Play Store and Apple App Store.

You should use the Check in Tas App each time you enter and exit our facility
If you do not have a smartphone or are unable to use one, others in your group can check in for you or staff at the premises will be able to check you in manually.
For more information and FAQs, CLICK HERE.
Let's work together to manage contact tracing and prevent the spread of COVID-19.
Frequently Asked Questions
Expand all
What are we doing to minimise health risks in-Centre?
The Centre will be vigilant in implementing infection control procedures including daily cleaning in accordance with normal protocols, the promotion of healthy hygiene habits and will make hand sanitiser available for staff and patrons to use while using the Centre.

What information and advice will help our members?
For now, the best advice is to follow some simple steps to help slow the spread of the virus and to reduce the risk of infection.
Follow the information and tips to help improve your safety and wellbeing, from Department of Health website

If I have or am undergoing a period of self-isolation, what happens to my membership?
If you are showing symptoms or have been recommended by a Health Professional to self isolate, you should be staying at home and minimising contact with others. Please contact the Centre team to discuss managing your membership where you are uncertain of your options.